'Widows' directed by Steve McQueen
Widows is a star vehicle for Viola Davis. Its a heist movie like the movie Heat, but for women. I was down for that. And it was really good. Its got an all star cast, or at least a cast that should all be stars. and only a few problems. Its worth watching and its a good time at the movies.
Alright the movie really relies on plot, to the point where talking about it at all brings up potential spoilers, but the strength of the film is in the characters. Can Viola Davis carry a movie, yes! Yes she can. Michelle Rodriguez plays the same character she's played in every movie a short tempered snarl prone latina. Elizabeth Debicki the hotty from the Night Manager miniseries gets a real beefier role here, but comes off as a bit of a lightweight. Cynthia Erivo and Viola hold it down though.
We have a B plot that feels more grounded and makes more sense a lot of the time in the father son relationship between Robert Duvall and Collin Farrell as corrupt political family in Chicago. They are honest among themselves and its done well.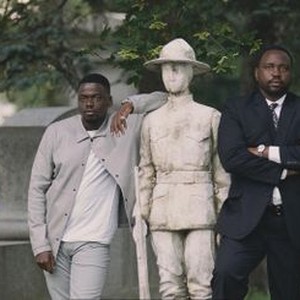 Then we have Daniel Kaluuya and Brian Tyree Henry as the heavies, The antagonists and they are scary as hell. Great actors, they give enough heat and conflict to carry the flick. Its not perfect but its a compelling actors movie, a definite rental, and a definite recommendation.